THE DAMNED CANCEL THEIR 2020 SHOWS AND LOOK TO 2021 FOR RESCHEDULING
We've thought this might be coming for some time as it's now clear that it's very unlikely it would have been possible for Friars to present The Damned on 2nd November 2020 due to social distancing almost certainly still being in place. Damned fans wearing masks and social distancing in the mosh pit would have been….errr… interesting.
The Damned have decided to make that decision for us and are announcing today that all their 2020 shows, including the Friars date, will be cancelled and they will start again with new dates in 2021.
This means that all existing ticket holders should seek a refund on their tickets with ATG, Ticketmaster or See tickets depending on which outlet was used to purchase the tickets. Please give the ticket outlets a few days to set this up and please let us know if you encounter any difficulties and we'll try to help.
This pandemic has devasted the live music industry but Friars will be back stronger than ever. Please support the #LettheMusicPlay campaign. We can't wait for live music to become legal again. Thanks so much to all the Friars Aylesbury community and a special thanks and appreciation to ATG and the Waterside team who have been absolutely brilliant in supporting us. Keep the faith.
Says the Captain…..
"Unfortunately due to the ongoing issues with Covid-19 and live music, we're going to have to cancel the following shows (Sheffield, Glasgow, Leeds, Aylesbury).
We're making big plans for 2021, a very exciting year for The Damned, so will keep you updated on all that as new dates get confirmed.
This Covid thing has been awful for anyone afflicted with it of course, but also to our way of life – shops and businesses are going bust left right and centre and what will be left when things get back to normal (note the omission of the word new, cos that means anything but normal) is anyone's guess, but I'll tell you something... I'm so desperate for a bit of live music, I'd even pay to see a bloody Cliff and the Shads tribute act at the moment. 😳
We want to get this show out on the road again and are doing all in our power to make that happen. It's a glorious noise the Damned makes and we will hopefully be coming to a stage near you sometime soon. #letthemusicplay 👍👍👍"
BIG BIG TRAIN & THE FLAMING LIPS
RESCHEDULED DATES CONFIRMED
Friars Aylesbury is thrilled to be able to announce that new rescheduled dates are confirmed for the mighty Big Big Train and American underground legends The Flaming Lips.
Big Big Train were originally scheduled to appear on 16 July 2020 but due to CV19 and the fact that the Waterside Theatre was closed a new date had to be found. We are so pleased to be able to confirm that the new rescheduled date is:
SUNDAY 18 JULY 2021
BIG BIG TRAIN + LIFESIGNS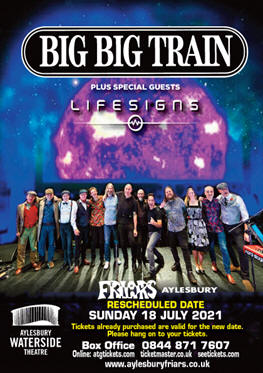 The original Big Big Train date also featured French band Lazuli but they won't be appearing on the rescheduled date. Instead we are over the moon that LIFESIGNS, a band Friars has been trying to put on for a decade, will be special guests. Lifesigns feature prog legend and local hero John Young who has been featured in Prog Magazine many times. Friars remains very impressed by Lazuli and efforts will be made to find a way of putting them on at Friars in the future.
The Flaming Lips were originally scheduled to appear at Friars on 24 July 2020 but due to CV19 and all live gatherings being outlawed, a new date had to be found.
We are elated to be able to confirm that the new rescheduled date is:
WEDNESDAY 21 JULY 2021
THE FLAMING LIPS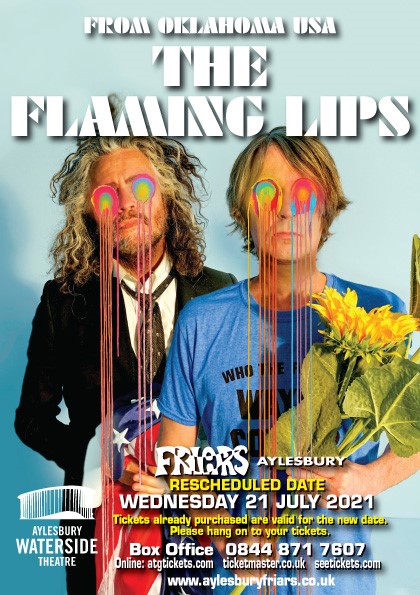 Tickets for both the above new dates are now available from ATGTickets, Ticketmaster and See Tickets. Tickets already purchased for the original dates are valid for the new dates. Please hang on to your tickets. Thanks for keeping the faith in these difficult times. Friars thanks all those who have loyally held on to their tickets which is a huge help to us. We can't wait for live music to return and we want you to be a big part of it.
STEVE HACKETT
GENESIS REVISITED – SECONDS OUT + MORE
FRIARS AYLESBURY at the WATERSIDE THEATRE 18 OCTOBER 2021
TICKETS on sale now from ATGtickets.com, Seetickets.com and Ticketmaster.co.uk.
Tickets limited to a maximum of 4 per person. Please note the Waterside Box Office is not open due to CV19.
Following his stunning sell-out Friars date in November 2019, Steve Hackett returns to Friars Aylesbury, the place where Genesis began, for a special one-off show featuring songs from the Genesis live album 'Seconds Out' plus other tracks from Steve's solo albums. This will be the first new Friars date to be announced since the CV19 lockdown.
Seconds Out was the hugely successful double album recorded on Genesis's 1977 concert tour together with The Cinema Show, from their 1976 tour, and featured Steve Hackett on guitar alongside Mike Rutherford, Tony Banks and Phil Collins who had taken on the role of vocalist following the departure of Peter Gabriel. The tour included music from each of the six studio albums from Steve's time in Genesis and marked his final recordings with the band as he left to pursue his solo career upon its completion.
Says Steve:
"I hugely look forward to being back on the road in the UK, bringing the whole of Seconds Out back to life! The set features some of the most thrilling Genesis material, this time all numbers played in full, plus additional surprises..."
Steve will be joined on the tour by regular musicians Roger King (keyboards), Jonas Reingold (bass), Rob Townsend (saxes/flutes) with Nad Sylvan on vocals.
Craig Blundell (Steven Wilson, King Crimson, Iron Maiden) will be on drums & percussion. He was voted by Modern Drummer and Rhythm Magazine readers as one of the top progressive and forward thinking drummers in the world.
Steve's autobiography, A Genesis In My Bed is published on 24th July 2020. Steve talks candidly about his early life, his time with Genesis, and in particular his personal relationships with the other four band members, with great insight into the daily goings on of this major rock band.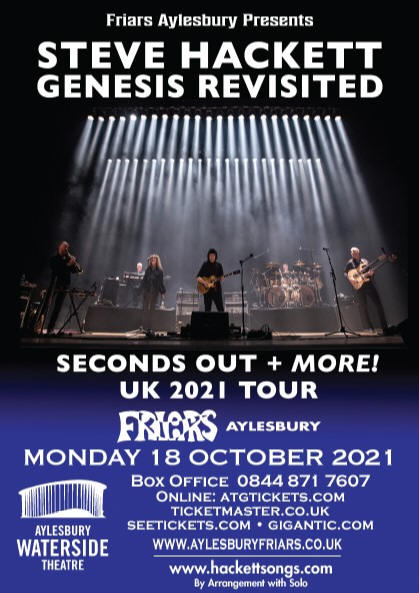 About Steve Hackett
Steve Hackett joined Genesis at the beginning of 1971 and first played Friars Aylesbury in June 1971. He quickly gained an international reputation as the guitarist in the band's classic line-up alongside Peter Gabriel, Tony Banks, Mike Rutherford and Phil Collins. Steve's intricate guitar work was a key element of Genesis albums from Nursery Cryme (1971) to Wind And Wuthering (1977) including the classic Selling England By The Pound.
After leaving Genesis at the end of 1977, Steve's solo career, which now spans more than 30 albums, has demonstrated his extraordinary versatility with both electric and acoustic guitar. Steve is renowned as both an immensely talented and innovative rock musician and a virtuoso classical guitarist and composer and this was recognised in 2010 when he was inducted into the Rock Hall Of Fame. He has also worked alongside Steve Howe of YES in the supergroup GTR.
Steve's compositions take influences from many genres, including jazz, classical and blues. For his later studio works The Night Siren (2017) and At The Edge Of Light (2019) Steve has explored the influences of world music.
Reviews from Steve Hackett's most recent Genesis Revisited Tour
'the night's prog feast.. was Selling England' ' which allowed the guitarist's band to fully showcase their talents…' 'for one evening at least it was fantastic to dance with the Moonlit Knight once more.' Simon Carter - The News Portsmouth
'Hackett's guitar effortlessly carves a path through the songs mixing melodic lines with experimentation and flat out rock...' 'The individual personalities of the band also shine throughout…' Stuart Avis -The Brighton Magazine
'a great riff, great lyrics and another guitar solo to die for...' 'the magic seems never-ending...' Alan Jones – Getreadytorock
'complex time changes and elaborate melodies were recreated by Hackett's superb band with verve and skill.' 'Hackett may well be the best guitarist around. Oh, and a great light show too. Obviously.' S Copeland - Brighton Argus
"This is a consummately highly talented group of musicians, possibly the best working band currently playing anywhere in the world. Seriously." Paul H Birch – Ramzine
Steve Hackett backstage at Friars Aylesbury at the Waterside 2 Nov 2019
FRIARS AYLESBURY ARCHIVE PROJECT
The Friars Aylesbury Archive is a not-for-profit project wherein we are trying to create a complete archive of all Friars related memorabilia including Friars news sheets, posters, tickets, video, recordings, press cuttings etc. We are then intending to completely digitise everything so that there is a permanent record of everything that has happened since Friars first started in June 1969.
In order to finance the project we will be offering for sale items where we have excess copies. Any funds created will be used to add additional security to the archive, digitise the archive and to create a fund to buy any missing items of which there are quite a few, as you will see below. We were recently thrilled to be able to purchase a Friars U2 poster from June 1981 which we've been after for many years.
As explained we are very keen to acquire the items we are missing, for the archive. Some people have already kindly donated items to the archive for which we are very grateful, but we are quite prepared to pay for them if necessary.
These are the missing handouts and posters as of June 2020:
HANDOUTS
| | |
| --- | --- |
| 1971 | |
| 04-Sep | Mott The Hoople + Paul Brett's Sage |
| | |
| 1973 | |
| 10-Feb | Mott The Hoople + Darien Spirit |
| | |
| 1974 | |
| 25-May | Cockney Rebel + BeBop Deluxe |
| 06-Jun | Cockney Rebel + AJ Webber |
| | |
| 1982 | |
| 18-Sep | Simple Minds + Hey! Elastica |
| | |
| 1983 | |
| 29-Jan | Solstice + Pendragon |
| 03-Nov | Public Image Limited |
| 29-Dec | Marillion + Nigel Planer as Neil |
| | |
| 1984 | |
| 17-Feb | Thomas Dolby + Dekka Danse |
| 23-Mar | Ian Dury & The Music Students + MG Giant + Adrenalin |
| 16-Jun | Fiction Factory + House Of Hearts |
POSTERS (20" X 30")
| | |
| --- | --- |
| 1969 | |
| 25-Aug | Renaissance |
| 8-Sep | Quintessence + John Peel |
| 13-Oct | Principal Edwards Magic Theatre |
| 20Oct | Skin Alley |
| 10-Nov | Caravan |
| 17-Nov | Graham Bond Intiation |
| | |
| 1970 | |
| 5-Jan | East of Eden |
| 12-Jan | Writing OnThe Wall |
| 2-Feb | Mott The Hoople |
| 9-Feb | Steamhammer |
| 23-Feb | Hawkwind + Mick Softley |
| 2-Mar | Writing On The Wall + Black Apple |
| 9-Mar | The Crazy World Of Arthur Brown + SME |
| 16-Mar | Edgar Broughton Band |
| 23-Mar | Matthews Southern Comfort |
| 6-Apr | Skin Alley |
| 13-Apr | Genesis + Nick Drake |
| 20-Apr | Roy Harper + Mick Softley |
| 27-Apr | Van Der Graaf Generator |
| 4-May | Mott The Hoople + Mick Softley |
| 11-May | Bronco |
| 18-May | Gypsy + Amber |
| 1-Jun | Mick Softley + Roger Ruskin Spear + Wishbone Ash + Les Payne |
| 8-Jun | Groundhogs + Chameleon |
| 29_jun | Stray |
| 6-Jul | Argent |
| | |
| 1971 | |
| 5-Jun | Southern Comfort + Help Yourself + Ade Roach |
| 26_un | Al Kooper + Hookfoot |
| 2-Jul | Lindisfarne + Gilbert Hampshire's Armpit Review |
| 10-Jul | Van Der Graaf Generator |
| 31-Jul | East Of Eden + Home |
| 21-Aug | Hookfoot + Quiver |
| 9-Oct | Quintessence |
| | |
| 1972 | |
| 8-Apr | Edgar Broughton Band + Mr Moses School Band |
| 22-Apr | Hawkwind + Magic Muscle |
| 8-Jul | Caravan + Gnidrolog |
| 12-Aug | Stray + Snakeye |
| 9-Sep | Wizzard + Glencoe |
| 21-Oct | Jonathan Kelly + Capability Brown |
| | |
| 1973 | |
| 6-Jan | Brinsley Schwarz + Kala |
| 10-Feb | Mott The Hoople + Darien Spirit |
| 3-Mar | Mott The Hoople + Darien Spirit |
| 26-May | Roy Buchanan + Solution |
| 17_jun | o'Burg Hawk + Magus + Otway & Barrett (Raban's Rock '73 |
| 23-Jun | Backdoor + Budgie |
| 7-Jul | Jack The Lad + Peter Hammill + Zox & The Radar Boys |
| 18-Aug | Jo'Burg Hawk + Glencoe |
| 1-Sep | String Driven Thing + Ducks Deluxe |
| 15-Sep | Commander Cody and His Lost Planet Airmen + Kilburn and The High Roads |
| 29-Sep | Jonathan Kelly + Gryphon |
| 3-Nov | Darryl Way's Wolf + Le Orme |
| 17-Nov | Stackridge + Aj Webber + Warrior |
| 1-Dec | Gong |
| 7-Dec | Carmen + Rotgut |
| 22-Dec | Ducks Deluxe + Starry Eyed And Laughing |
| 29-Dec | String Driven Thing + Kilburn and The High Roads |
| | |
| 1974 | |
| 2-Feb | Greenslade + Chilli Willi & The Red Hot Peppers |
| 16-Feb | Can |
| 2-Mar | Queen + Fruupp |
| 9-Mar | Manfred Mann's Earth Band + Wally |
| 13-Apr | Refugee + Aj Webber |
| 20-Apr | Blodwyn Pig + Narnia |
| 8-Jun | Silverhead + Blue |
| 21-Jul | Capability Brown + Aj Webber + Druid + Palace + Avalon (Raban's Rock '74) |
| 17-Aug | Blodwyn Pig + Nutz |
| 21-Dec | Jess Roden Band + String Driven Thing |
| | |
| 1975 | |
| 19-Mar | Hunter Ronson Band + Warren Harry and The Yum Yum Band |
| 17-May | Dr Feelgood + Warren Harry |
| 8-Nov | Camel + Asylum |
| | |
| 1976 | |
| 20-Nov | The Flamin Groovies + The Vibrators |
| | |
| 1977 | |
| 18-Jun | Tom Petty and The Heartbreakers + The Boomtown Rats |
| | |
| 1978 | |
| 7-Jan | Osibisa + Spartacus |
| 11-Mar | Motorhead + The Radiators From Space |
| 22-Apr | The Modern Lovers |
| 28_Jun | The Clash + The Coventry Automatics |
| | |
| 1983 | |
| 25-Jun | Big Country + The Lotus Eaters + Red Beat |
| 29-Oct | The Truth + Screen 3 + Doris and The Dots |
| 5-Nov | The Alarm + Basta Roc + Perfect Crime + The Climb |
| 19-Jun | Public Image Limited + First Priority |
| 3-Dec | Gary Glitter + Gothique |
| 23-Dec | The Farmers Boys and The Higsons + Popular Voice |
| | |
| 1984 | |
| 17-Feb | Thomas Dolby + Dekka Danse |
| 14-Apr | Grandmaster Flash + Mike Bruce + Seelabeelia |
| 23-Jun | X-Mal Deutschland + The March Violets + Red Lorry Yellow Lorry |
| 2-Nov | Sisters Of Mercy + The Skeletal Family |
| 10-Nov | The Alarm + Blue In Heaven |
| 24-Nov | The Cult + Balaam and the Angel + Play Dead |
If you have any of the above items and would like to donate them or allow us to purchase them from you we would be enormously grateful. Please contact Sue@fmlmusic.com
Many thanks
FD
FRIARS 50th ANNIVERSARY PODCASTS
Friars Aylesbury first opened its doors on Monday 2 June 1969. Exactly 50 years later on 2 June 2019, the 6 Friars Founding Fathers reunited in Aylesbury's Kings Head to talk about the early days of Friars and the first magical years of Friars Aylesbury.
Those participating are legendary rock journalists Pete Frame and Kris Needs as well as the Friars Founding Fathers Robin Pike, Adrian Roach, Jerry Slater, Terry Harms, John Fowler and David Stopps. Also participating are John Braley who managed the Borough Assembly Hall and the Civic Centre for many years, Stephen Daglish who managed Earth Records and created the Aylesbury Music Town website and Keith Martin who was Friars member No 1.
http://www.buckstv.co.uk/friars-50th-anniversary-podcast-part-two/
http://www.buckstv.co.uk/friars-50th-anniversary-podcast-part-one/
The photograph below shows those participating in the podcast:
Left to right:
Kris Needs, Adrian Roach, Robin Pike, David Stopps, Terry Harms, Jerry Slater and Pete Frame.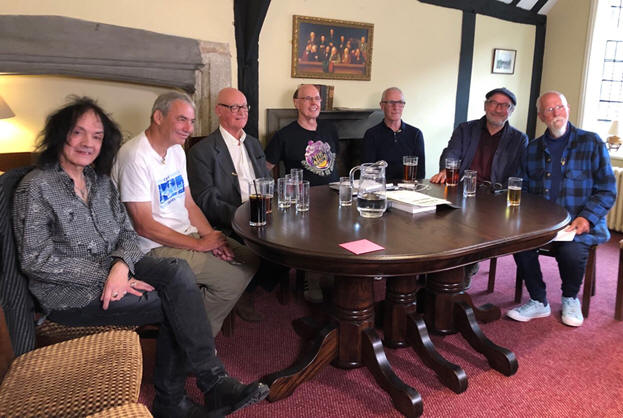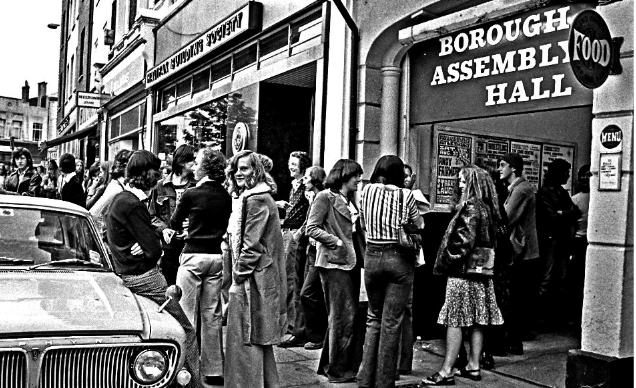 Wow, that Steve Hillage and Gong gig was amazing - galleries from that gig and the other Friars gigs this year by clicking the relevant poster.
Sign up to the newsletter (link above) for all the latest gig news etc
| | | |
| --- | --- | --- |
| | | |
| | | |
HEROES....JUST FOR ONE DAY
The statue was unveiled on Sunday March 25th to a large crowd, a large audience watching live online and covered by local and national media. This was followed by an amazing gig featuring local heroes Marillion, Howard Jones, John Otway and the Dung Beatles.
To see the statue live, there is a dedicated webfeed here
Full gallery here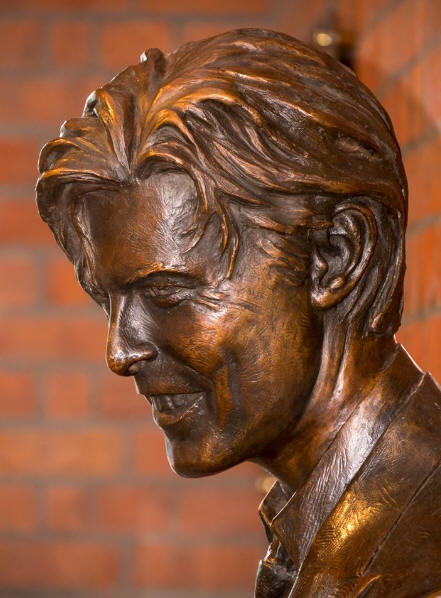 Full gallery from Erasure gig here

The Thin White Book now available to purchase

At last it's here!

The Thin White Book - A History of David Bowie and Friars Aylesbury is now available here from the Friars Aylesbury online shop - link above in menu or click this link. goo.gl/D6LbGf

If you are in the Aylesbury area you can also purchase the book from Rocky & Kook or Aylesbury Music, both in Temple Street, Aylesbury or Deco Audio/Vicious Squirrel in Kempson Close, Aylesbury (Avoids P&P charges).