"Memories are everything apparently, and I have only great ones of the fabulous Friars." David Bowie, February 28th 2014
We are currently petitioning Bucks County Museum trust to allow an exhibition to commemorate Friars 50th birthday in 2019 following on from the successful exhibition in 2014. Presently they have declined. An online petition has been set up to campaign for a reversal of this decision. Full details can be found here.
STIFF LITTLE FINGERS
and EDDIE & THE HOT RODS to play
the FRIARS AYLESBURY 50th Birthday Party
SATURDAY 25 MAY 2019 at Aylesbury Waterside Theatre
Remaining tickets on sale from the Waterside Box Office and online from ATGtickets.com , ticketmaster.co.uk and Seetickets.com
It's been an astonishing 10 years since Stiff Little Fingers played Friars Aylesbury but now, they're finally back to celebrate 50 glorious years of Friars in Aylesbury.
SLF formed in Belfast in 1977 and burst on to the emerging punk scene in 1978. Along with The Clash, Sex Pistols, The Ramones, The Jam, Buzzcocks and Undertones they were at the forefront of the punk movement. They first played Friars Aylesbury supporting the Tom Robinson Band in October 1978 and were immediately taken to Friars Aylesburys' hearts. After that they were regarded as a core Friars Aylesbury band, and still are. The legendary Jake Burns and Ali McMordie still front the band as they did in 1978.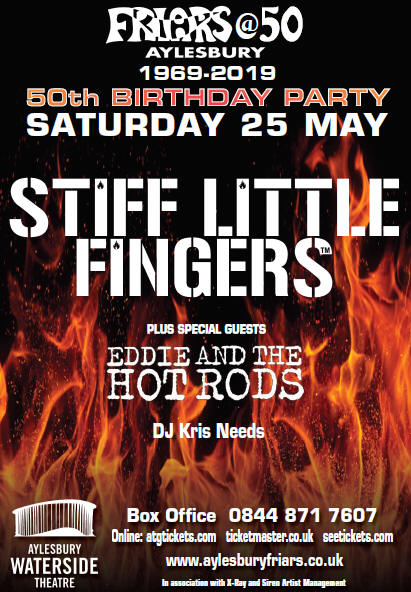 Inspired by their anger over The Troubles in Northern Ireland and declaring that they wanted an 'alternative Ulster' for the youth of their country they let it all out on stage with high energy performances that no one will ever forget. They still have that same energy throughout their set and particularly on their iconic anthems 'Suspect Device' and 'Alternative Ulster'.
Following that first FA gig in 1978 SLF were immediately booked back at Friars headlining on 3 Feb 1979 on the Rough Trade Records package which included Robert Rental & The Normal and Essential Logic which was followed by another 6 Friars shows in June '79, July '80, May '81, January '82, November '82 and finally in October 2009. In July 1980 they wanted to put out a live album and decided to record their London Rainbow show on 20 July and the Friars show on 25 July. When they listened to the tapes they decided to take all but one of the tracks from the Friars show as it was so much better. The resulting Live album was 'Hanx' which was released later that same year.
In November 1982 they were supported by a band called The Wingnuts which no one knew anything about except that they were American. The Wingnuts were due on stage at 8.45pm but at 8.30pm still hadn't shown up. David Stopps went up to Jake Burns and asked him if he knew where they were. Jake said "They always turn up late…we've agreed that they can use our gear" Sure enough at 8.45pm they did turn up in these crazy wigs and Stopps announced them as instructed "….from Cinncinnati Ohio….The Wingnuts!" It was only half way through the first song which was Mud's 'Tigerfeet' that we all realised they were SLF in disguise. That same night Tom Robinson turned up and joined them for the final encore which was '2-4-6-8 Motorway'.
But that's not all! Special Guests will be the legendary Eddie & The Hot Rods who first played Friars in February 1976 followed by 4 more headline Friars appearances in October '76, February '78 (supported by Squeeze with Jools Holland), March '79 and October 2010 at the Waterside as special guests to Buzzcocks. They were so good at that first Friars Phase Four Waterside gig ending with their iconic version of 'Gloria' and their trademark 'Do Anything You Wanna Do', that they almost stole the show.
Its totally fitting that SLF and Eddie & The Hot Rods will be playing the Friars Aylesbury 50th Birthday Party and its bound to be one of the most exciting Friars gigs ever.
FRIARS AYLESBURY in its 50th Anniversary year 1969-2019
presents Aylesbury band
THE DUNG BEATLES
at the Aylesbury Waterside Theatre
performing Abbey Road in its entirety and other Beatles classics on 26 September 2019 – the 50th anniversary of the release of the Abbey Road album.
Tickets on sale from the Waterside Box Office, atgtickets.com and ticketmaster.co.uk
Friars Aylesbury has a long tradition of supporting local bands and over the years has supported and presented Marillion, John Otway, Howard Jones, Callow Saints and many others.
In its 50th anniversary year Friars now presents Aylesbury heroes The Dung Beatles who are considered to be one of the very best Beatles bands in the UK. They will be playing the Abbey Road album in its entirety, plus other Beatles classics. This gig will be on Thursday 26 September 2019 which will be 50th anniversary, to the day, of the release of the Abbey Road album.
Formed in 2013 and featuring Steve Hillier (rhythm guitar and vocals), Danny Prendergast (lead guitar and vocals), Mike Ashton (drums), Phil Toler (bass guitar and vocals) and Martin Kent (keyboards) the DBs have been building a solid fanbase throughout Buckinghamshire, Hertfordshire and Oxfordshire. They have sold out many local venues including Aylesbury's Limelight Theatre, St Mary's Church, The Elgiva Theatre in Chesham and the Thame Theatre.
They have also played The Cavern in Liverpool.
This will be the DBs second Friars Aylesbury gig as they played at the Earthly MessengerUnveiling Concert at The Waterside on 25 March 2018 alongside John Otway, Howard Jones and Marillion. They went down an absolute storm that night. That concert included an international audience many of whom had flown in to attend the unveiling. This 26 September Friars concert will be the biggest concert of their career so far. Big fans themselves, the DBs focus on playing the Beatles' songs with as much love and feel as possible, from the tenderest ballad to the raunchiest rocker, combining well known classics and more obscure album gems.
Dung Beatles will be augmented on stage by horn section the Hornettes who are Andrew Dimond (saxophone), Kathy Gifford (trumpet), Michele Toler (saxophone & flute) and Toby Whiffin (trombone).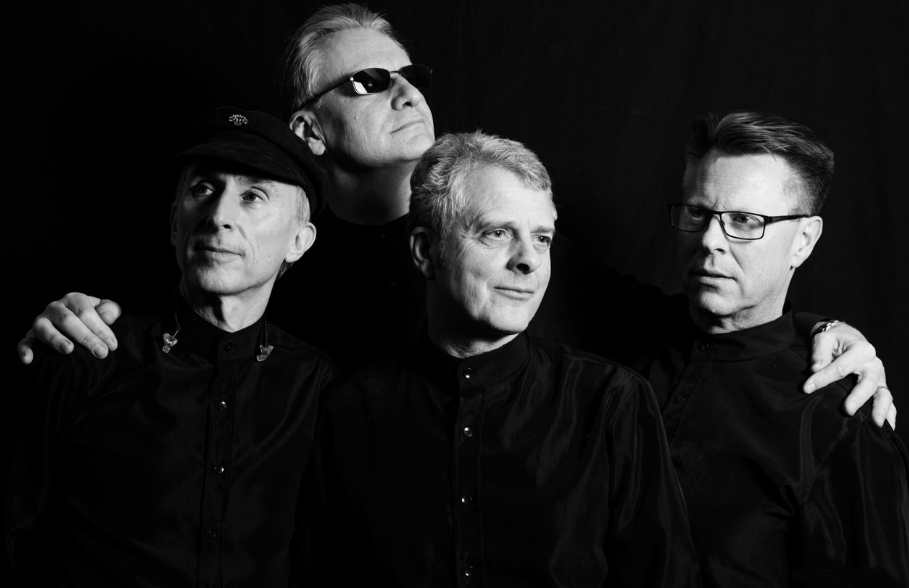 Full Neale Wareham gallery from that amazing Vaccines gig here
Full gallery from the Nick Mason gig here
STEVE HACKETT FRIARS AYLESBURY 2 NOV 2019
**SOLD OUT**
For the first time ever, Steve will perform the seminal Genesis album 'Selling England By The Pound' in its entirety. Released in 1973, the album went to No.3 in the UK charts and has been described as 'the definitive Genesis album'. It includes such favourites as 'Dancing With The Moonlight', 'Firth Of Fifth', 'Cinema Show' and, of course, 'I Know What I Like (In Your Wardrobe)'. Other favourite classic Genesis tracks will also feature in the show.
2019 also marks the 40th anniversary of one of Steve's most popular solo albums Spectral Mornings and Steve will rightly celebrate this milestone by performing some of the masterpieces from this album.
Fans will also be treated to highlights from Steve's new album, to be released in 2019.
Joining Steve on this tour are Roger King (keyboards), Gary O'Toole (drums/percussion), Rob Townsend (saxes/flute), Jonas Reingold (bass/twelve string) and Nad Sylvan on vocals.
HEROES....JUST FOR ONE DAY
The statue was unveiled on Sunday March 25th to a large crowd, a large audience watching live online and covered by local and national media. This was followed by an amazing gig featuring local heroes Marillion, Howard Jones, John Otway and the Dung Beatles.
To see the statue live, there is a dedicated webfeed here
Full gallery here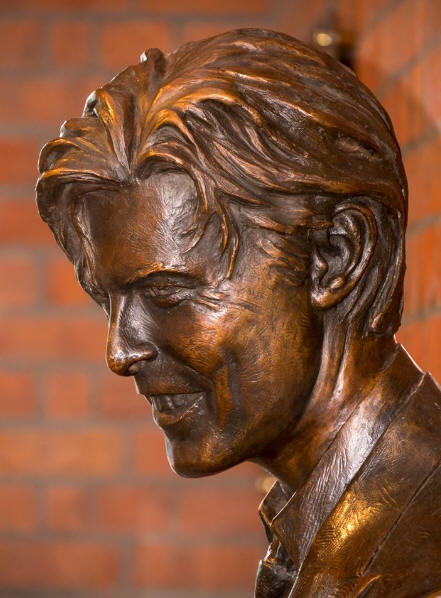 Full gallery from Erasure gig here
The Thin White Book now available to purchase
At last it's here!
The Thin White Book - A History of David Bowie and Friars Aylesbury is now available here from the Friars Aylesbury online shop - link above in menu or click this link. goo.gl/D6LbGf
If you are in the Aylesbury area you can also purchase the book from Rocky & Kook or Aylesbury Music, both in Temple Street, Aylesbury or
Deco Audio/Vicious Squirrel in Kempson Close, Aylesbury
(Avoids P&P charges).