After a short break of 34 years, King Crimson returned to Friars in a series of firsts. It was King Crimson's first proper UK dates since 1982 and the interest was high to say the least. People came to these gigs from all over to be amongst the first to see Mr Fripp and co, incredibly people came to Aylesbury from as far afield as Russia. In other firsts, it was the first time Friars had presented a concert in an all seated format and although there is one matinee in Friars history, this was the first time an artist had played two consecutive official nights at Friars. In truth, as has been reported elsewhere they played three nights as on Sunday they played a full set rehearsal to friends and family of many hundreds! (Steve Hackett, The Specials and in the very distant past Bauhaus had also loaded in the day before their tours started) This audience included many well known faces including Steven Wilson seeing his Porcupine Tree colleague Gavin Harrison on drums. Oh, and Kate Bush was there as well. Babooshka.
The gigs on Monday and Tuesday were different to each other and some new material was performed alongside a career spanning set. From talking to people at the gigs, they were mesmerised by what they witnessed. People going to future gigs on the UK tour have been emailing me with their excitement about what they have read about the Aylesbury shows.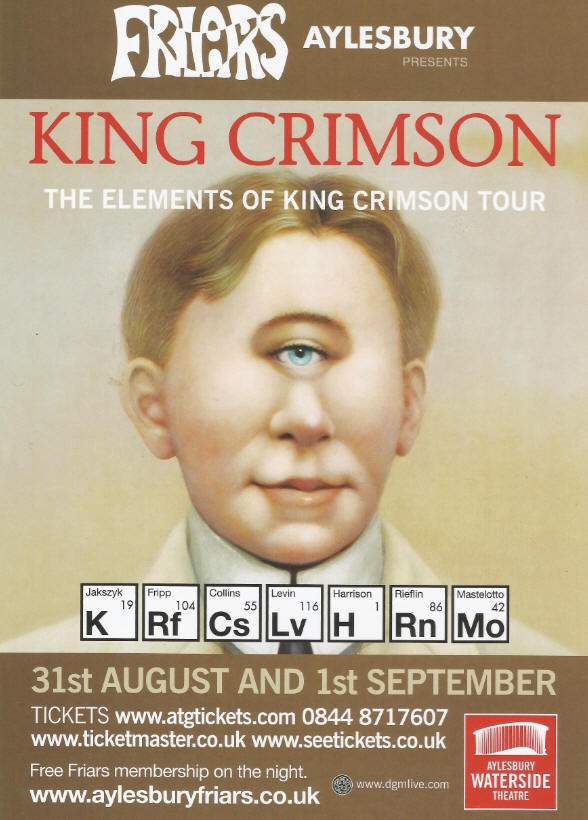 Both sets were preceded by specially created soundscapes composed by Robert Fripp on the day! This added to the main set saw a near three hour performance each night.
The presentation itself was interesting. The three drummers were front of stage with the remaining four band members elevated on a riser behind them. The drummer setup was a talking point and it worked really well and you could tell who was doing what. It wasn't the loudest gig but the sound quality was crystal clear. The production was sparse with the focus being entirely on the music. The band were lit by house lights rather than a rig or other theatrics. The backline though all have Friars history. Mel Collins on saxes had played here before with Camel, Tony Levin played the last King Crimson show at Friars in 1981 (and is easily recognisable from playing on every Peter Gabriel tour), Jakko did a great job on guitar and vocals and played here in 2013 with Steve Hackett and of course on stage right keeping a customary low profile was the ever present Robert Fripp. As with a typical Levin performance, he played a variety of bass guitar, upright bass and the Chapman stick which few can master like he does.
Monday night saw live debuts of new compositions Radical Reaction, Suitable Grounds For The Blues and Meltdown. Hardcore fans were ecstatic at Epitaph being performed for the first time since 1969 (I witnessed a certain promoter very excited when they did that!) and Easy Money made it's first live outing since 1974. To add to the joy for the purists, In The Court of The Crimson King saw its first live outing since 1971. Finishing the sets with 21st Century Schizoid Man saw people almost floating out of the hall. Everyone I spoke too was blown away.
It's no surprise that the band were rewarded with enthusiastic standing ovations each night.
As promised by the band the two nights were different and Tuesday saw live outings for Larks Tongues in Aspic Part 2 amongst a couple of others. Full setlists below.
Monday: Larks Tongues in Aspic Part I, Pictures of a City, Suitable Grounds for the Blues One More Red Nightmare, Radical Action into Meltdown, Hell Hounds, Easy Money, The ConstruKCtion of Light, Epitaph, Banshee Bells, The Letters, Sailors Tale, Interlude, Red, Starless, Devil Dogs, In the Court of the Crimson King, 21st Century Schizoid Man
Tuesday: Larks Tongues in Aspic Part I, One More Red Nightmare, Vrooom, Suitable Grounds for the Blues, Radical Action, Meltdown, Hell Hounds, Easy Money, The ConstruKCtion of Light, Level 5, Epitaph, Interlude, Talking Drum, Larks Tongues in Aspic PartII, Starless, Devil Dogs, Red, In the Court of the Crimson King, 21st Century Schizoid Man.
Tony Levin, King Crimson: Beautiful theatre, and we could tell even from the stage that the sound is very good here.
As I've written before, I won't be taking any photos during the shows, in respect to having asked the audience to do the same.
But what we saw at the shows' end, when the house lights came up, was the theatre full of lovely people, an enthusiastic audience who seem to have liked the performance very much!
Some of the feedback we've had!
There is also a thriving Friars community on Facebook with hundreds of members!
Normally we'd have a load of action photos from the gig, but King Crimson have a very strict no photography policy. The band's Tony Levin is legendary for taking pictures of every gig he plays usually whilst actually playing (!) Even stated (as above) that as the audience has been asked not to take pictures, it was only right that this time he didn't. He took many pictures though from before and after the Friars performances, some of which are below.
All pictures: Copyright Tony Levin/PapaBear unless noted
What the drummers view of things is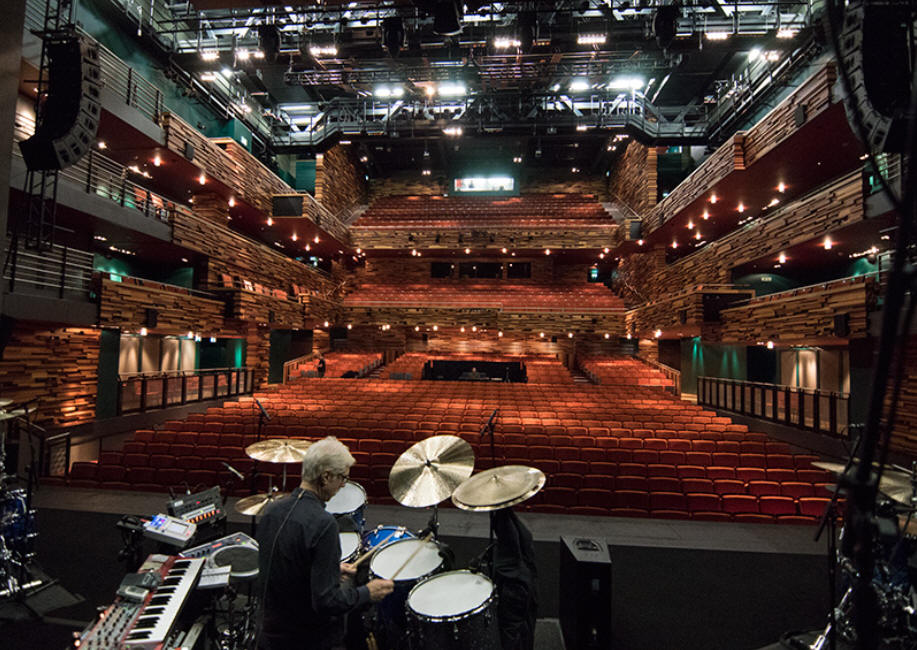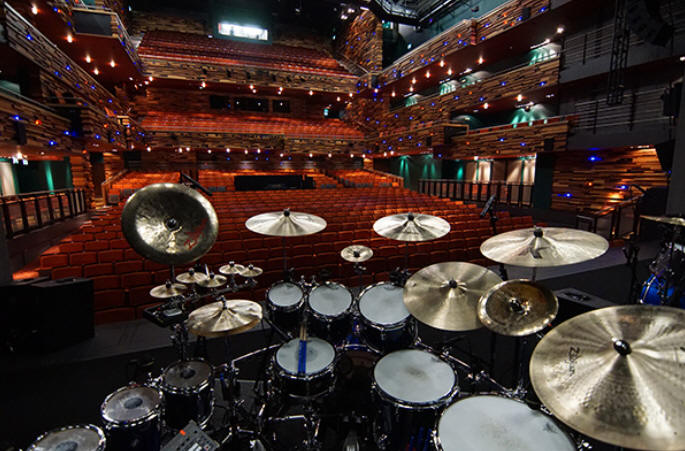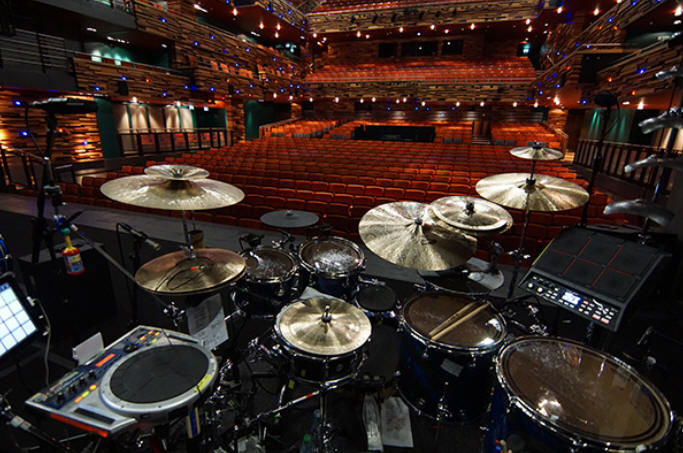 Post soundcheck, Robert Fripp composing that evening's unique soundscape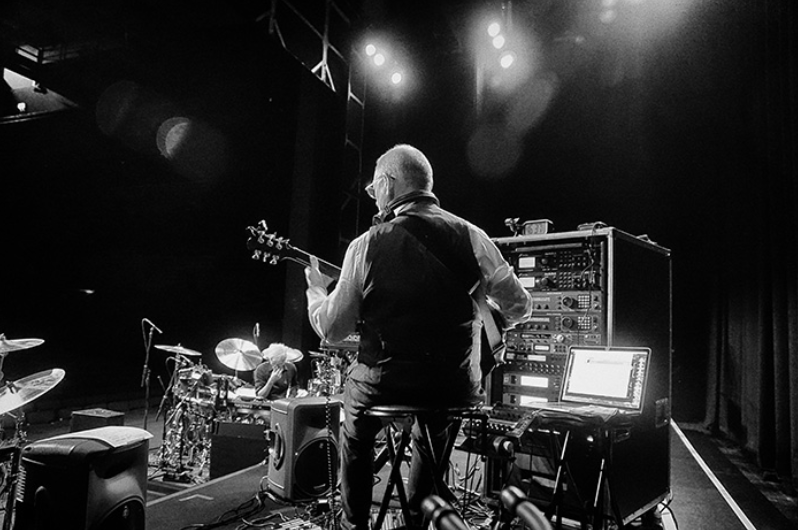 The band appreciated just one of things that makes Friars unique. Robin Pike made one of his early morning trips to no less than Covent Garden, something he has done for Friars all along.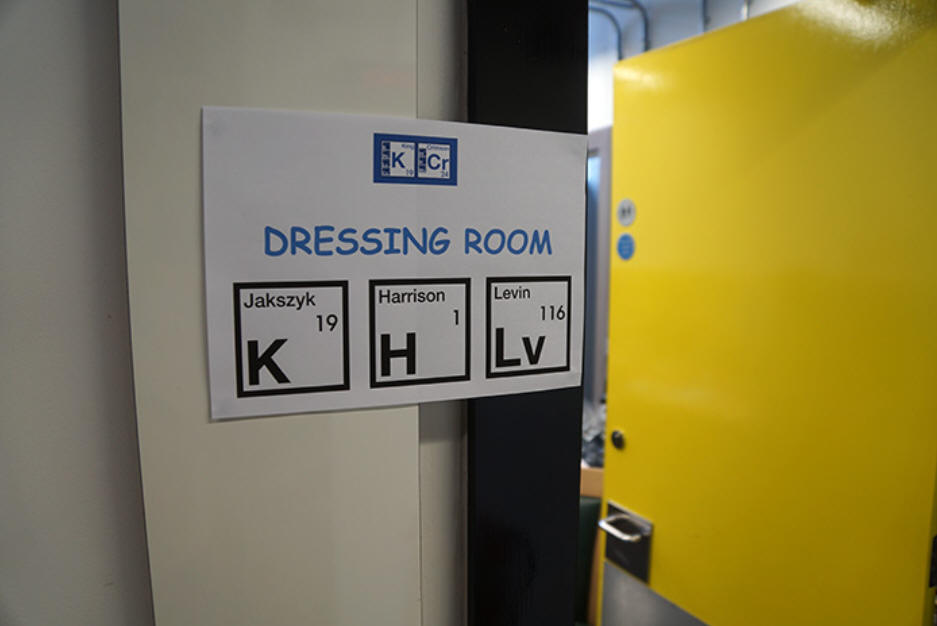 About to take the stage, Mel Collins and Gavin Harrison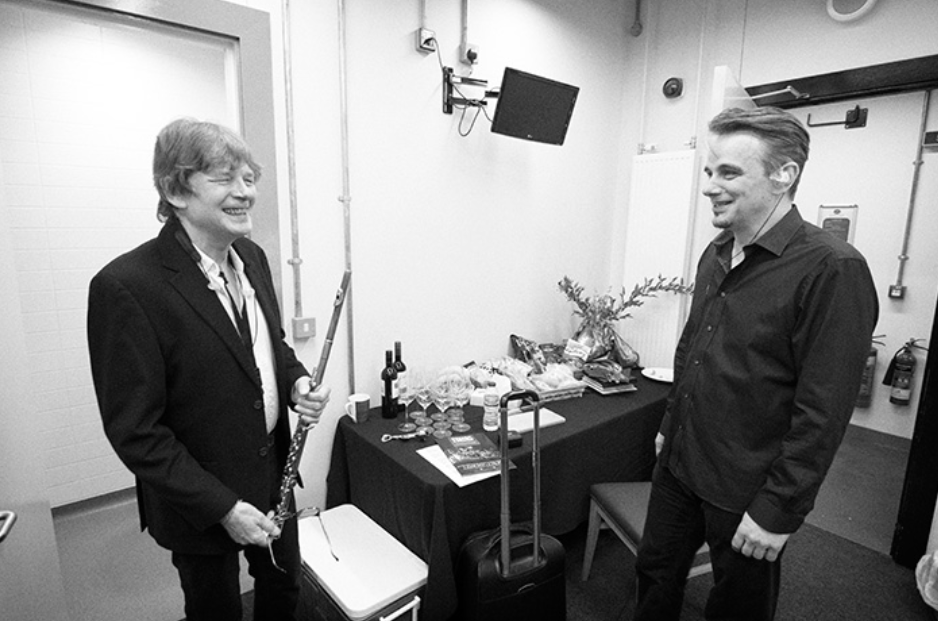 About to take the stage, Bill Rieflin and Pat Mastellotto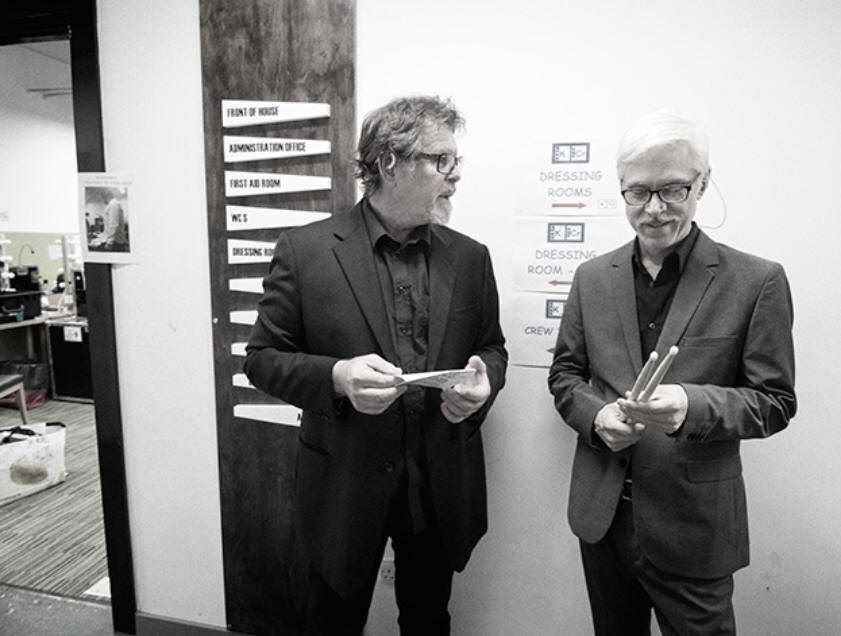 SHOWTIME!