Saturday November 1st 1980
friars aylesbury phase three - vale hall, civic centre, market square, aylesbury
exclusive friars aylesbury interview with andy mccluskey
Orchestral Manoeuvres In The Dark
Fatal Charm
related friars history (click on date)
OMD Saturday October 6th 1979
setlist
possible setlist: I Betray My Friends/Stanlow, Pretending To See The Fture, Almost, Messages, Annex, Mystereality, Julia's Song, Motion And Heart, The More I See You, Promise, Statues, The Misunderstanding, Dancing, Red Frame White Light, Electricity, Bunker Soldiers, Enola Gay, Waiting For The Man
band line up
OMD
Andy McCluskey (bass/vocs) Paul Humphreys (keys/vocs) Martin Cooper (keys) Malcolm Holmes (drums)
Fatal Charm
Sarah Simmonds Paul Arnall Kev Davies Dave Barker Kev Gallagher
gig poster and flyer (click to enlarge flyer)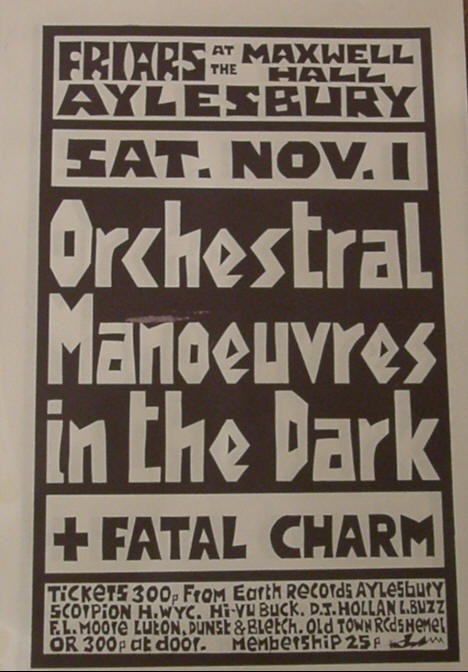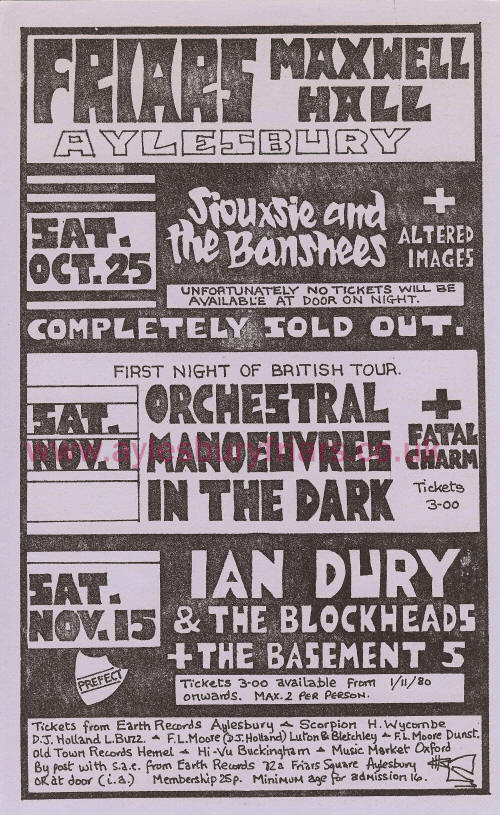 ticket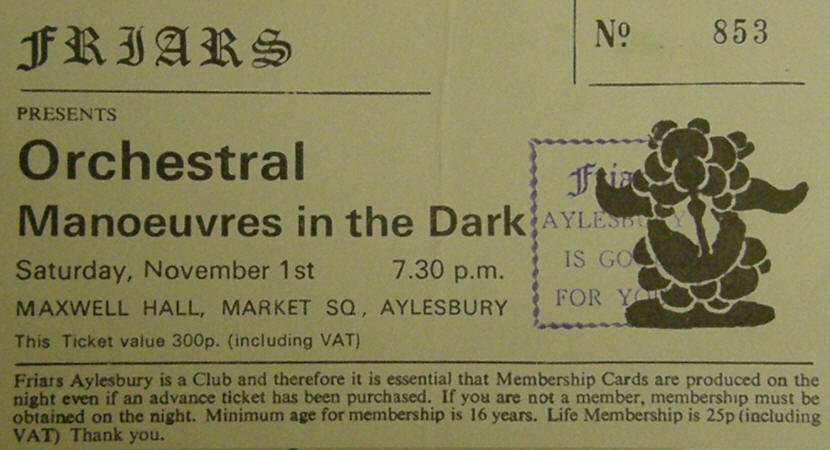 memories
The webmaster, north Bucks:
One of my all time favourite gigs. I had really taken to OMD after the Numan gig in 1979 (and the John Peel sessions) and started to buy all their stuff. I remember a defining moment in my life was seeing, unexpectedly, OMD doing Messages on TOTP and knowing this band were going to make it. This gig sold out (surprising many people) and whilst I cannot recall Fatal Charm (possibly a girl singer?), I do remember the awesome OMD set based round the Organisation album. I still remember the genuine bonhomie between Andy and Paul during the gig. Yes, this was a good one. As Andy says, it was a real shame that this remained their only headlining appearance
Andy McCluskey, OMD:
OK, how's this for an anecdote.

When OMD were at the after premiere party in LA for the movie Pretty in Pink, I met George Michael who told me that he and Andrew Ridgely saw us at the Friars in 1980 and it was the best gig they had ever been to!!!

The Friars was a lovely intimate venue and I wish that we had played there more often
press cuttings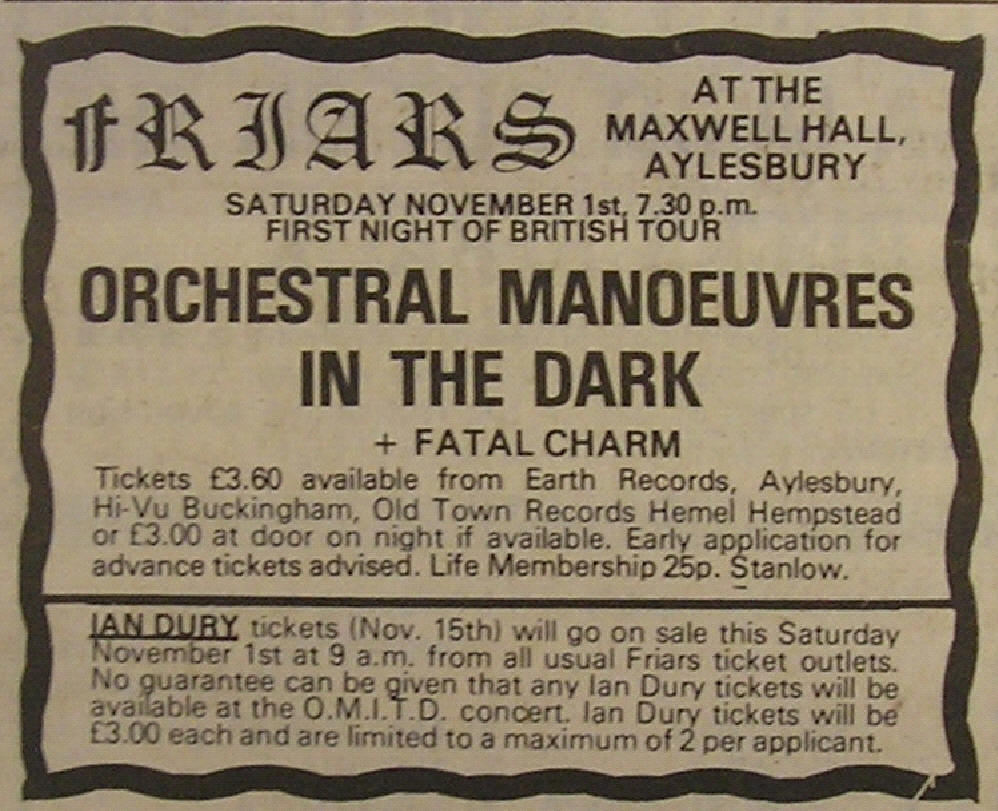 what happened next
Up until 1988 this line up of OMD kept on producing the hit singles and albums before splitting. Andy McCluskey revived the name in 1991 and continued to have success for another five years. With the end of OMD, McCluskey turned his hand to writing for others, notably scoring huge hits for Atomic Kitten. Humphreys teamed up with Propaganda's Claudia Brucken and still performs as One-Two. However, this classic line up reformed in 2007 to play Architecture and Morality and a lot more and very successfully. This line up also toured the UK in 2008 (we saw both 2007/2008 gigs and they're still very very VERY good)

and released a brand new albums in 2011 and 2013
odds and trivia
official web presence
OMD official site
Fatal Charm official site
sound and vision
OMD - Motion and Heart
Fatal Charm - Images of Fire
privacy policy legal and t&c contact
© copyright 2007-2018 mike o'connor/www.aylesburyfriars.co.uk.
All rights reserved and no part of this website may be reproduced without written permission - please see terms and conditions for details. All photos copyright mike o'connor except where specifically stated and used with permission.