related friars history (click on date)
Siouxsie and the Banshees Saturday September 16th 1978 Saturday October 25th 1980
setlist
P
layground Twist, Metal Postcard, Staircase (Mystery), Premature Burial , Switch, Overground, Placebo Effect, Icon, Regal Zone, Jigsaw Feeling, Fong Kong Garden, Suburban Relapse, Love in a Void
band line up
Siouxsie and the Banshees
Siouxsie Sioux (vocs) Steve Severin (bass) John Mackay (guitar) Kenny Morris (drums)
The Cure
Robert Smith (guitar/vocs) Lol Tolhurst (drums) Simon Gallup (bass)
`
gig poster and flyer (click to enlarge flyer)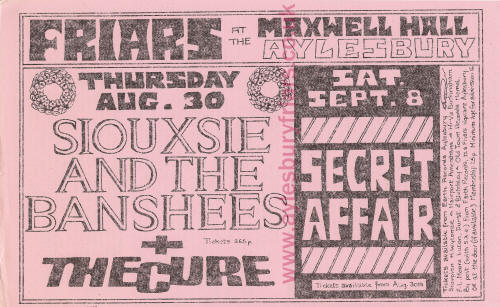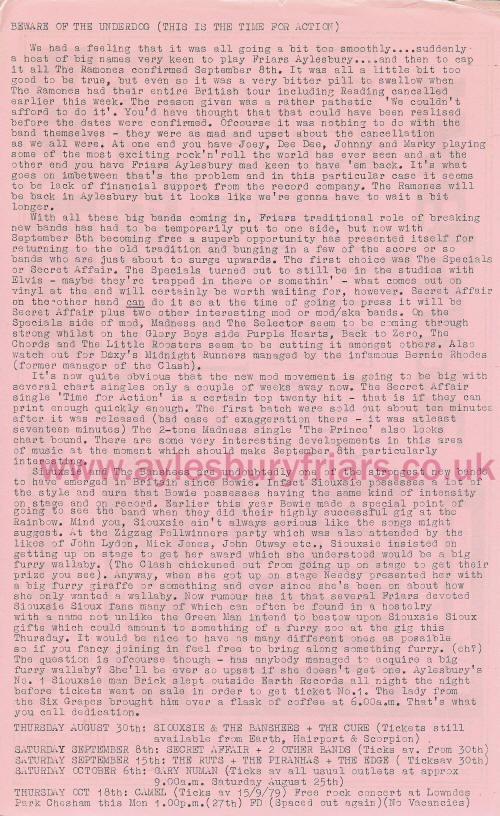 ticket
memories
The webmaster, north Bucks:
"One of my first proper gigs and was blown away by the sheer volume of noise. Quite near the front but Siouxsie clearly had an attitude on her for reasons unknown. This was to promote the Join Hands album which John Peel had played in its entirety the same week they played Friars which was rather handy. I remember the NME review of this gig the week (see below) after which was, to be frank, nasty and mentioned events taking place I swore never happened or I was looking the wrong way. They claimed Siouxsie kicked the PA stack to the extent it swayed and almost toppled onto the audience. If this really happened, I do not believe that Siouxsie would ever have been allowed near Friars again."
Steve Beach, Friars fan
"I've just stumbled across your site having been watching a documentary on The Clash with my ten year old son. I told him I saw them in Aylesbury at Christmas 1978 and looked for more info. I joined Friars to see Siouxsie and the Banshees in September 1978. I was 14 at the time and had to lie about my age to get in. I wasn't convincing because I was questioned on the door - but got in any way. Your site has bought memories flooding back. I also went to see Siouxsie on 30th August 1979. I was just in front of the right hand PA stack and, contrary to the text on the site, I vividly remember Siouxsie kicking the stack a number of times. It did come close to toppling and I remember being more than a little concerned!"
Photos courtesy of Gary Leeson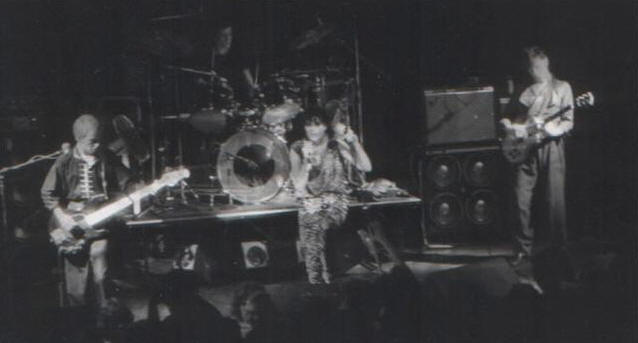 press cuttings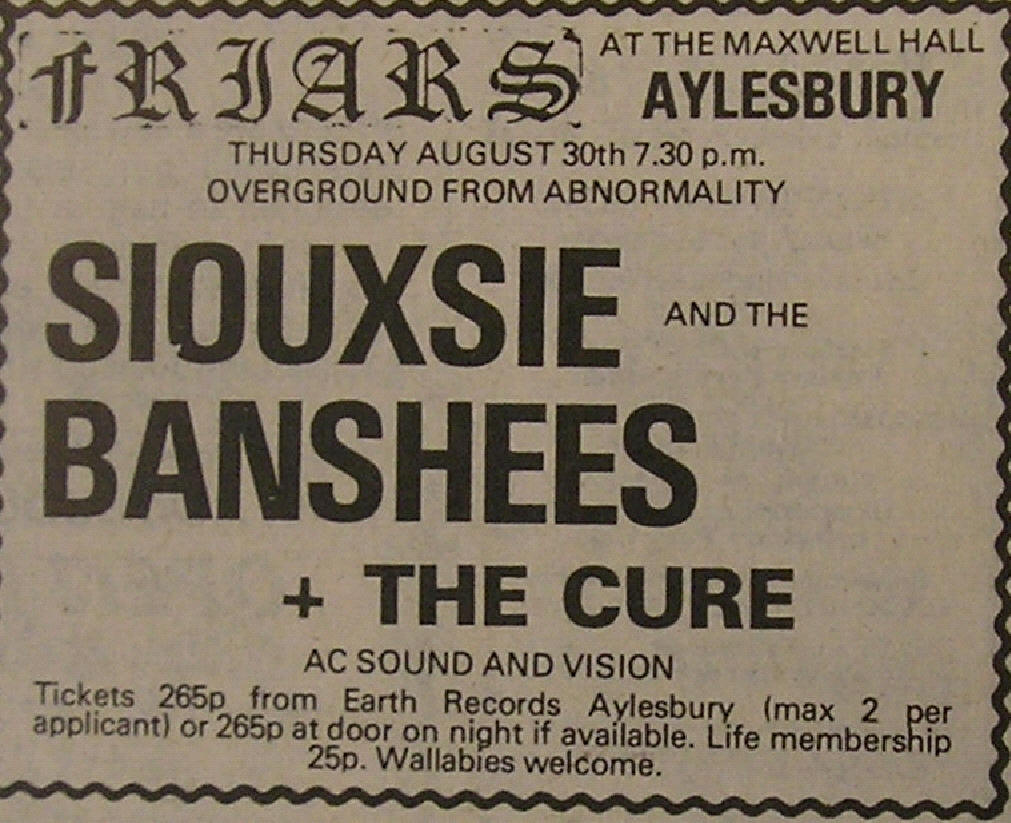 Thanks to Autumn at the Pictures of You website for allowing use of the poster and the cutting below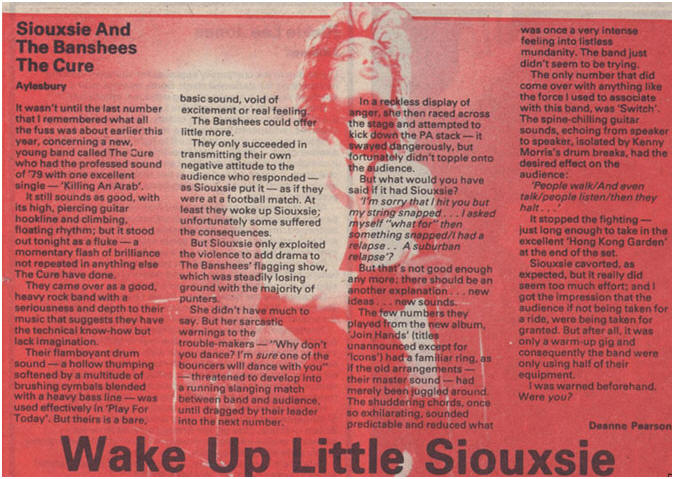 what happened next
This turned out to be one of the last gigs with the original line up as Morris and McKay departed a few days after this gig causing some of the tour to be scrapped whilst new members were very quickly found. The Cure's Robert Smith found himself very busy as he filled in for the rest of the tour playing two sets a night. Morris's drum stool was filled by Budgie from the Slits who later became Sioux's other half. The Banshees went from strength to strength and effortlessly sold out Friars in 1980. The Banshees continued in one form or another for another 20 odd years. During this time Sioux and Budgie teamed up as The Creatures having hit records away from the Banshees. By 2008 Siouxsie was recording and touring as a solo artiste. Some of the punk ethic clearly hasn't deserted her judging by a very hostile interview for Uncut magazine in 2007.

Also still going strong in 2013 are The Cure and still big enough to be playing UK arenas and festivals. The line up has been all over the place in 30 years with Robert Smith being the constant factor and other members having more than one stint in the band
odds and trivia
official web presence
Siouxsie official site
Steven Severin official site
The Cure official site
sound and vision
Siouxsie and the Banshees - Playground Twist
The Cure - Killing An Arab