related friars history (click on date)
Genesis Monday April 13th 1970 Monday June 30th March 11th 1972 Saturday September 2nd 1972 Saturday March 22nd 1980
Friars Princes Risborough Friday October 6th 1970 Friars Dunstable Monday February 26th 1973 Friars Bedford Friday October 23rd 1970 Friday July 2nd 1971 Friday June 16th 1972 Friars Watford Wednesday 28th June 1972
Peter Gabriel Friday August 24th 1979
Stackridge (Peter Gabriel guest appearance) Saturday June 7th 1975
setlist
Unknown
band line up
Genesis
Tony Banks (keys) John Mayhew (drums) Peter Gabriel (vocs) Anthony Phillips (guitar) Mike Rutherford (bass)
gig poster and flyer (click to enlarge flyer)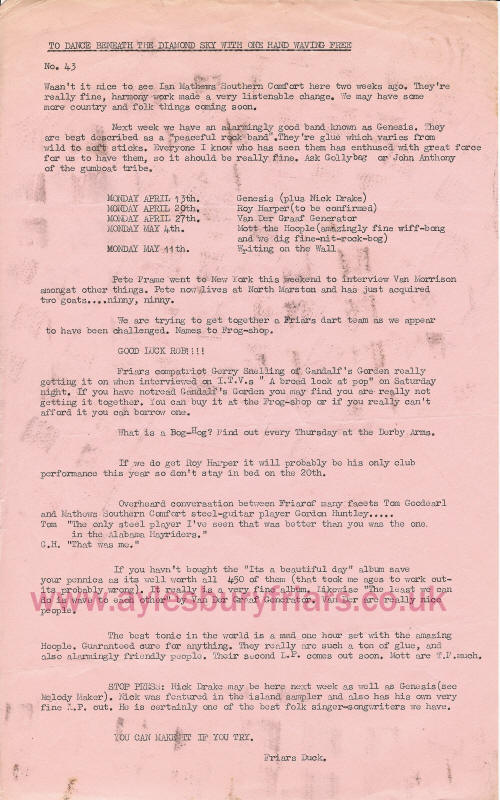 ticket
memories
thanks Luca Alberici for advert below
Tony Banks, writing in the Chapter and Verse autobiography, 2007 said: "We played a lot at Friars Aylesbury which was a great venue for us throughout this period, and we were friendly with Dave Stopps who ran it"
The contract for this gig ! Genesis for a tenner - thanks Luca Alberici
odds and trivia
There is much conjecture amongst Friars afficianados from the early days as to whether Nick Drake appeared. General consensus seems to suggest he may not have.
what happened?
Genesis Where do you start? ! Steve Hackett joined the band, replacing Anthony Phillips and in 1975 Peter Gabriel left Genesis to pursue a solo career and has been phenomenally successful. Hackett left to pursue a solo career in 1977 after the Wind and Wuthering album. Genesis remained a core three piece (their 1978 album wonderfully called "...and then there were three"....) and went on to become one of the world's biggest bands and whilst huge played Friars again in 1980 creating the biggest demand in Friars history. Genesis were still filling stadiums until 1992. Collins officially left in 1995, with him enjoying huge solo success alongside his Genesis commitments. Banks and Rutherford soldiered on with Ray Wilson from Stiltskin, but after one album called it a day. The core trio reunited in 2007 and proved they could still fill stadiums. Rumours still persist that a reunion with Hackett and Gabriel is on the cards (having not been able to do it in 2007)
John Mayhew died in 2009. Anthony Phillips has kept himself busy in music
official web presence
Genesis official site
Peter Gabriel official site
Anthony Philips official site
sound and vision
Genesis - Stagnation
Nick Drake - Northern Sky