Peter Gabriel, on breaking his leg at Friars at this very gig, writing in the Chapter and Verse autobiography, 2007 said
I was still trying to work out how to break the gap between stage and audience. Very often I felt I was a filter between the audience and the band, because sometimes they thought they could play behind a black curtain and it wouldn't matter. I knew that it did matter and we had to make those connections. So at Friars I wanted to jump out in the audience, which would have been fine, except that a dancer doing some early headbanging, and probably well pissed, changed direction at a crucial moment and broke my fall as I jumped off the stage. Consequently I landed badly and broke a bone in my leg, but because it was 'The Knife', an up number, I was pumped full of adrenalin. I knew something had gone but I couldn't feel any pain at all. I got some people from the audience to carry me back on stage, couldn't stand up and finished the number on my knees. Eventually the rest of the band had gone off stage after taking their bows. I was still there on my knees and I could see them thinking "You old ham, stop milking it"
Tony Banks, writing in the Chapter and Verse autobiography, 2007 said: "We played a lot at Friars Aylesbury which was a great venue for us throughout this period, and we were friendly with Dave Stopps who ran it"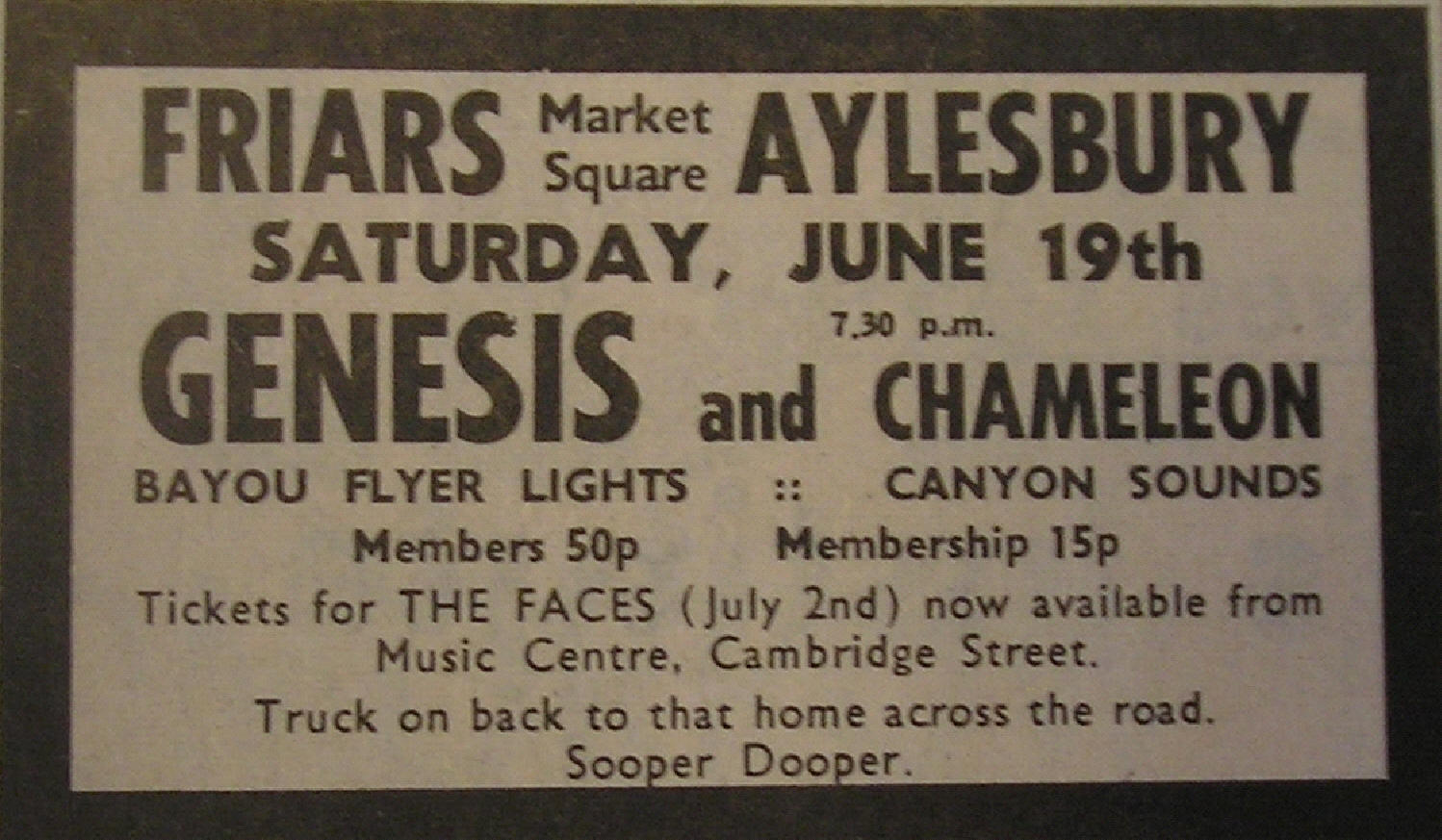 Thanks Luca Alberici for the below

Genesis Where do you start? ! Steve Hackett joined the band, replacing Anthony Phillips and in 1975 Peter Gabriel left Genesis to pursue a solo career and has been phenomenally successful. Hackett left to pursue a solo career in 1977 after the Wind and Wuthering album. Genesis remained a core three piece (their 1978 album wonderfully called "...and then there were three"....) and went on to become one of the world's biggest bands and whilst huge played Friars again in 1980 creating the biggest demand in Friars history. Genesis were still filling stadiums until 1992. Collins officially left in 1995, with him enjoying huge solo success alongside his Genesis commitments. Banks and Rutherford soldiered on with Ray Wilson from Stiltskin, but after one album called it a day. The core trio reunited in 2007 and proved they could still fill stadiums. Rumours still persist that a reunion with Hackett and Gabriel is on the cards (having not been able to do it in 2007)
John Mayhew died in 2009. Anthony Phillips has kept himself busy in music