related friars history (click on date)
Stiff Little Fingers Thursday October 12th 1978 Saturday February 3rd 1979 Saturday June 2nd 1979 Friday July 25th 1980 Saturday January 30th 1982 Friday November 5th 1982 Friday October 23rd 2009
setlist
band line up
Stiff Little Fingers
Jake Burns (vocs/guitar) Ali McMordie (bass) Henry Cluney (guitar) Jim Reilly (drums)
The Wall
Andy Griffiths (vocs/bass) Nick Ward (guitar) Rab Beith (drums
`
gig poster and flyer (click to enlarge flyer)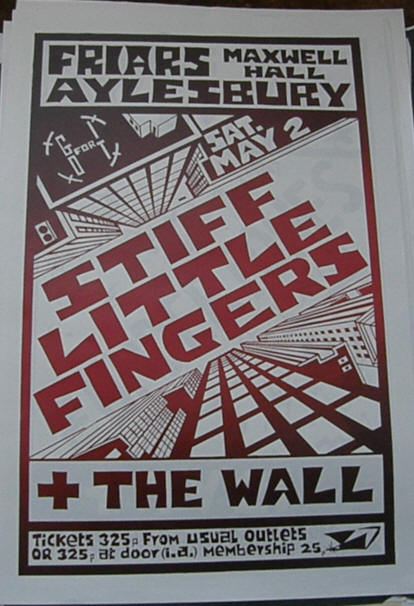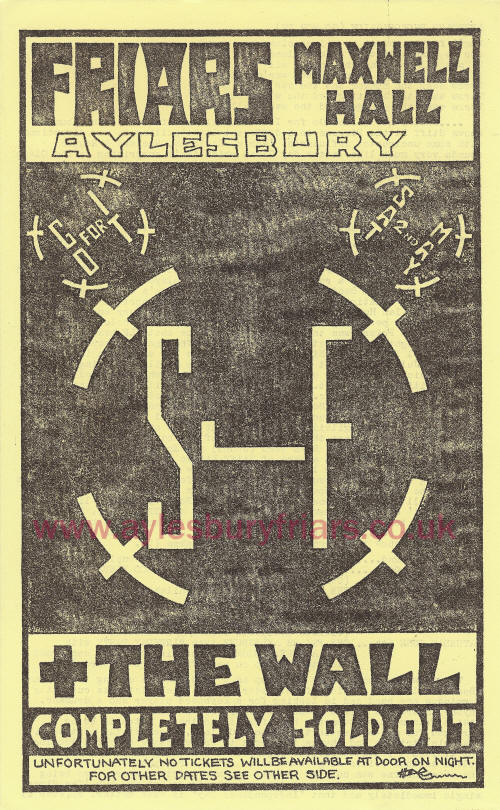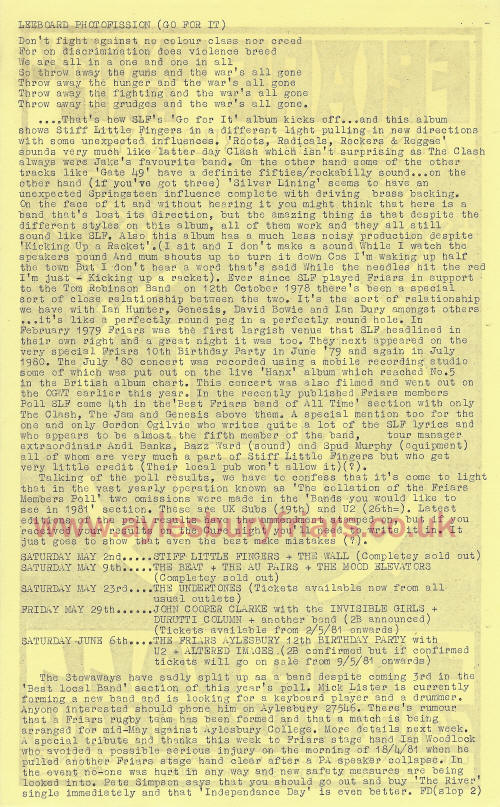 ticket
memories
Pete Bell, Friars fan from Weston Turville:
"Can't remember which visit it was - they must have played there 8 or 9 times - but Stiff Little Fingers were once awarded 'The FA Cup' live on stage, after one of their gigs. Basically, I think it was a thank you from FA to Jake Burns and the boys for always including FA in their touring schedule and for recording the 'Hanx' Album there and giving the place great publicity. Think it was the gig where 'The Wall' supported them. I say this because I remember hanging around the stage door to get SLF's autographs and The Wall came out and informed us in rich Scottish tones 'You're all too f****g ugly for autographs' like it was them that were the cock of the walk! I downloaded their 'hit' ('Hsi Nao') once upon a time, which isn't half bad, but I can't remember them as anything other than utter c***s I'm afraid
press cuttings
what happened next
if ever a band would be welcome at Friars today, it must be this band and they came 'home' to Friars in 2009. SLF split in 1983 and reformed five years later. Although the line up has not always been stable - Burns the only constant, they did feature Jam hero Bruce Foxton for 15 years. Ali McMordie rejoined the band in 2006 (when we saw them and they were on cracking form as if it was this era all over again) and are still making people of a certain age very happy in 2012. We were SO pleased they came back 27 years later in 2009 and sold out Friars yet again.
It was no surprise that the Hanx album was recorded at Friars given how much they felt about the place.
The Wall had disbanded by 1983
odds and trivia
official web presence
Stiff Little Fingers official site
sound and vision
SLF - Doesn't Make It Alright
The Wall - Ghetto