related friars history (click on date)
Stiff Little Fingers Thursday October 12th 1978 Saturday February 3rd 1979 Saturday June 2nd 1979 Friday July 25th 1980 Saturday May 2nd 1981 Saturday January 30th 1982 Friday October 23rd 2009
The Specials (Roddy Radiation) Wednesday June 28th 1978 (as the Coventry Automatics) Thursday June 12th 1978 Friday May 3rd 2013
Tom Robinson Thursday October 12th 1978
setlist
Unclear but may have been something like the following:
SUSPECT DEVICE; JUST FADE AWAY; LOVE OF THE COMMON PEOPLE; FOUGHT THE WAR; MR FIRE COAL MAN; TWO GUITARS CLASH; SILVER LINING; BITS OF KIDS; PRICE OF ADMISSION; JOHNNY WAS; FALLING DOWN; BARBED WIRE LOVE; ONLY ONE; LISTEN; AT THE EDGE; FLY THE FLAG; GOTTA GETTAWAY; ALTERNATIVE ULSTER; 2-4-6-8 MOTORWAY (with Tom Robinson)
band line up
Stiff Little Fingers/Wingnuts
Jake Burns (vocs/guitar) Ali McMordie (bass) Henry Cluney (guitar) Dolphin Taylor (drums)
Roddy Radiation and the Tearjerkers
Roddy Byers (vocs/guitar) Mark Byers (vocs/guitar) Joe Hughes (bass) Pete Davies (drums) Clive Pain (keys)
`
gig poster and flyer (click to enlarge flyer)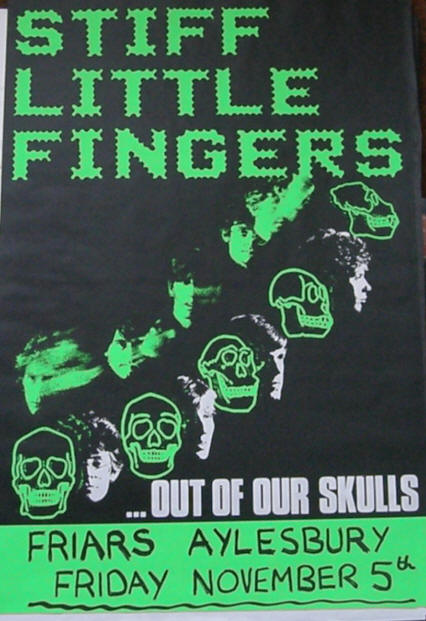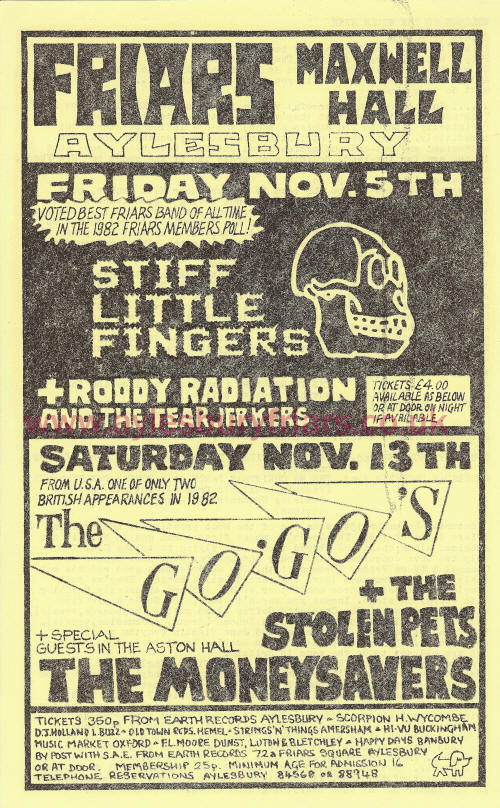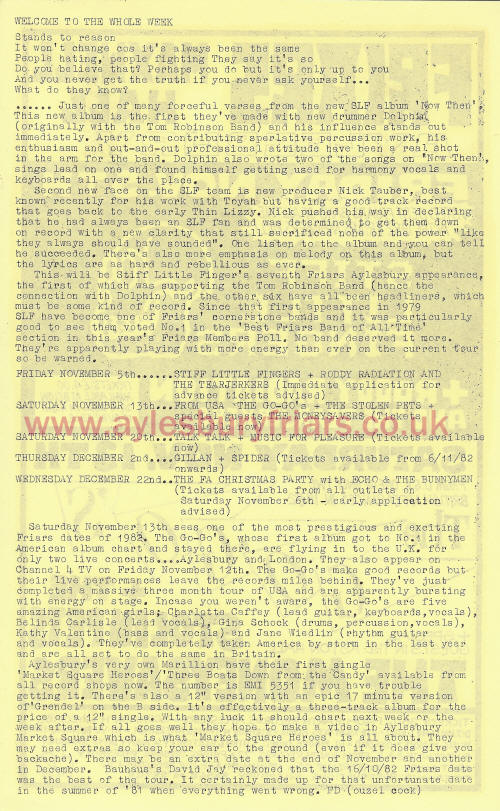 ticket
memories
Jake Burns in conversation with Alan Parker in 2001 on recording Hanx at Friars Aylesbury
Friars was a wonderful wonderful venue. I still have incredibly fond memories of the place. It was one of those magical small gigs in a small town yet it was run as if it was Madison Square Gardens. Nothing ever went wrong and everything ran incredibly smoothly. They were such nice people
and on the Wingnuts.....
They (Friars) were such trusting people...[we had bought some plastic masks].....we managed to convince them we were a band from Ohio called the Wingnuts and we went on and supported ourselves ! It was only when we started playing nonsense like Tiger Feet that the audience realised who we were and stopped throwing stuff at us!"
Autographed SLF flyer from this gig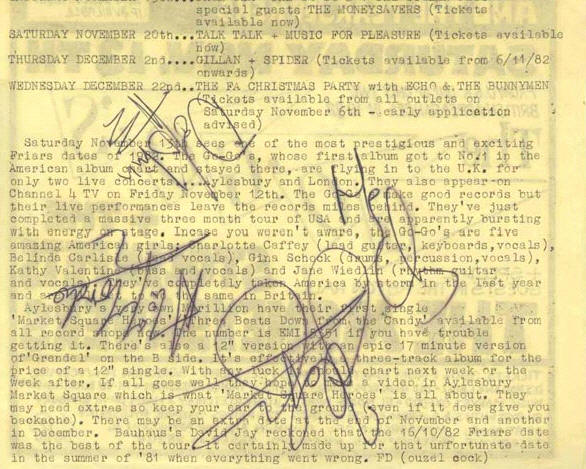 press cuttings
what happened next
if ever a band would be welcome at Friars today, it must be this band and they came 'home' to Friars in 2009. SLF split in 1983 and reformed five years later. Although the line up has not always been stable - Burns the only constant, they did feature Jam hero Bruce Foxton for 15 years. Ali McMordie rejoined the band in 2006 (when we saw them and they were on cracking form as if it was this era all over again) and are still making people of a certain age very happy in 2012. We were SO pleased they came back 27 years later in 2009 and sold out Friars yet again.
It was no surprise that the Hanx album was recorded at Friars given how much they felt about the place.
Roddy Radiation's Tearjerkers split by 1987, but now plays in Skabilly Rebels as well as a reformed Specials
odds and trivia
official web presence
Stiff Little Fingers official site
sound and vision
SLF - Johnny Was
Roddy Radiation and the Tearjerkers - Desire