related friars history (click on date)
The Truth Friday December 10th 1982
setlist
band line up
The Truth
Dennis Greaves (vocs/Guitar) Mick Lister (vocs/guitar) Chris Skornia (keys) Brian Bethell (bass) Gary Wallis (drums)
Screen 3
Neil Dyer (vocs/guitar) Richard Kett (bass) Brett Cooper (drums)
`
gig poster and flyer (click to enlarge flyer)
Thanks Simon Robinson for the poster
ticket
memories
Mick Lister, The Truth
Hello everyone, Friars .. well I think I must have spent most of my teenage years there!!. Thinking about it now we were so lucky to have a local gig that supplied the wealth of premium artistes/ bands to our town. Can't think of anywhere in the world this could have happened and have fond memories of being 16 and whenever a support band pulled out (my first ever band The Stowaways) would get a call from Dave Stopps to see if we would play (which of course we did!!) I also feel very lucky to have been one of the very few local musicians to follow their dream of headlining Friars in 1983 with The Truth (Formed out of Nine Below Zero),
Fond Memories indeed.
press cuttings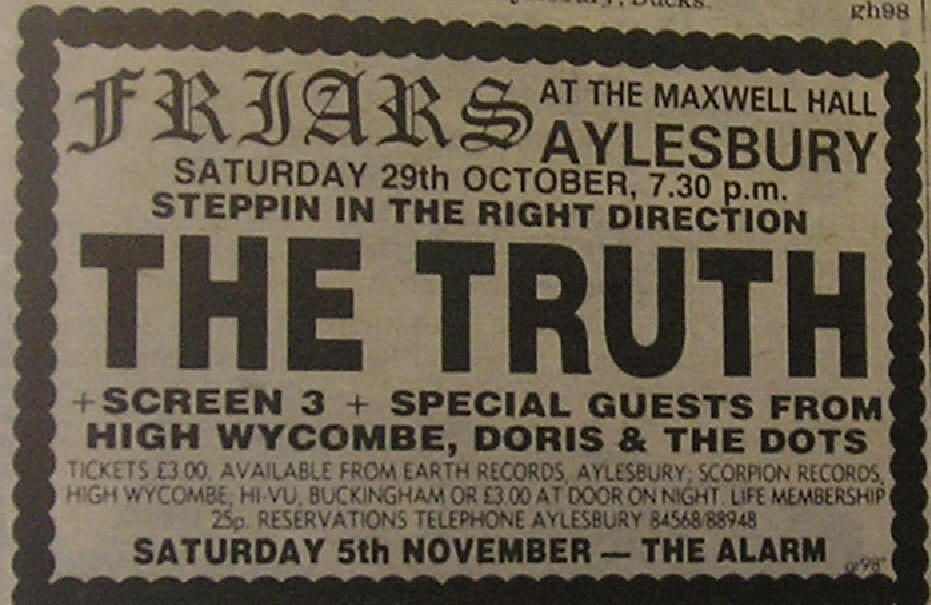 what happened next
The Truth called it a day in 1989. Mick Lister continues to work in the music industry managing and promoting new taent and has also worked with the likes of Any Winehouse. Dennis Greaves and Brian Bethell perform in Nine Below Zero again. Gary Wallis went on to play in Mike and The Mechanics and Pink Floyd amongst others
The original line up (minus Wallis) reformed for a tour in 2012.
Screen 3 split in 1984. They reformed briefly in 1990
odds and trivia
official web presence
Mick Lister official site
Nine Below Zero official site
sound and vision
The Truth - Confusion
Screen 3 - John Peel Session 1983